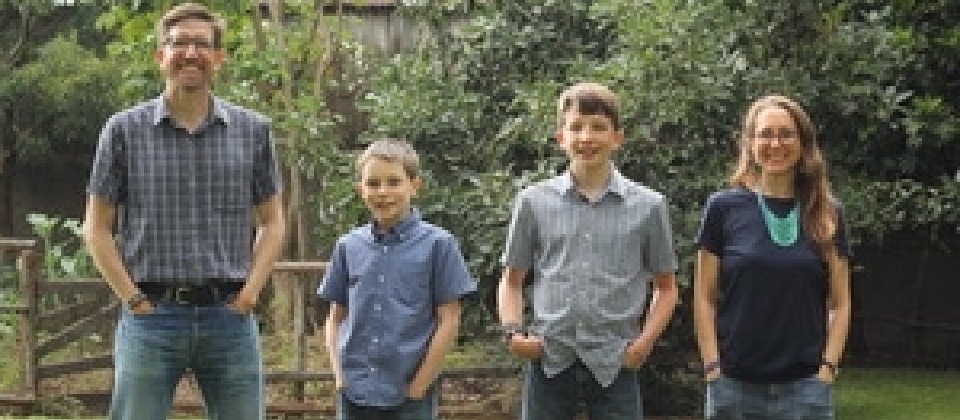 Klingforth Transition
by Klingforths
on January 29, 2021
The Red Arrow: New Direction for the Klingforth Family

As incoming Wheaton College freshmen, Travis and I (Lydia) both ran a weird wilderness race. We were only directed by signs with red arrows. Between signs, we were to stay on the same road or path, even if the trail turned a corner.

Debriefing that race, our leaders explained that this was a metaphor for God's direction in our lives: He makes a particular path clear, but then seems to go quiet. Between red arrows, we proceed faithfully on the last path He gave us.


PHOTO -- Red arrows: Keep going forward until God directs you to a new path.
That object lesson stuck with us. In our first years in Kenya, hard things happened, but none was a "red arrow" guiding us in a new direction, so we knew we should stay in Kenya.

Since then, we have regularly prayed, "Lord, if you ever send us a red arrow towards a different path, please make that very clear."

Our Red Arrow

We've been in Kenya 17 years. We love it here. Yet we see a clear "red arrow" guiding our family to move to the US this spring. We feel sadness & anticipation.

God willing, we will continue to serve with The Navigators, possibly in an immigrant or low-income community.

Three factors made this big step clear: (#1) a sense of completion in many of our roles here, (#2) Jesus' instruction to respond to family needs, and (#3) a sense of intrigue about what God might have us do next.

Completion

In 2014, Travis and I brainstormed four signs of completion in our work:

+ More Kenyan Navigators serving the urban poor

+ Our Nakuru Navs team equipped in fundraising.

+ Our Nakuru Navs team healthy and growing

+ Those we've mentored now mentoring others

In different ways, each one of these four things has happened. Wow.

Instruction

Most of our Kenyan friends provide generously for the needs of their elderly parents. They believe this is what it means to "honor your father and your mother." Their generosity is inspiring.

Both of Travis' parents and his only sister face increasing health challenges. It's tough.


PHOTO -- Pray for our family as we transition to the USA. It is hard to say farewell to friends we love in Kenya!
But we thank God for making his guidance to us so clear.

When Travis and I were on a late night prayer walk together in 2018, Travis cried out: "God, we don't know how to respond to the needs of our own family. Show us!"

An idea came to me: "Travis, one time the Pharisees told people they didn't have to help their parents. They said people could 'give it to God' instead and call it 'Korban.' Jesus was furious!"

We later learned that story is in Mark 7:9-13. But that very night, we knew that we should relocate. We shouldn't just "give to God" our time and energy as we live far away from our family's needs. Jesus invited us to "honor our father and mother" by being available to help them.

Intrigue

The work of the US Navigators also inspires us! Some Navs empower and disciple youth from low income neighborhoods. Others serve refugee and immigrant communities, sometimes among people unreached by the Gospel. We don't know what role God will lead us to next, but we trust Him to make it clear.

Thanks for journeying with us for all these years. We couldn't have done it without you! We invite you to continue to be part of our team in this new chapter ahead.
back