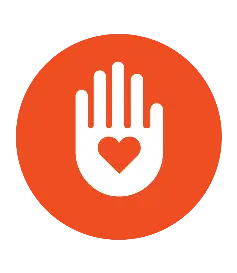 GIVE of Your Time, Talent & Treasures as you Gather, Grow & Go!
We are servants of Jesus who serve Him by serving others.
Fully God & fully human, Jesus took on the posture of a servant. He gave his life, even unto death, so that others could experience salvation, peace, and restoration. Jesus said, "I am among you as one who serves…" All those who follow Jesus are called to serve in the same humility. For us, this means joyfully submitting to Jesus as Lord, to the leaders he has placed over us, and to each other as we serve whomever God brings into our lives. We do whatever He leads us to do. (Matthew 20:25-28; 25:31-46; John 13:1-17; Philippians 2:5-11; 1 Peter 2:16)
One of the great blessings is to discover God's purpose for us and how He has shaped us individually to meet that purpose. We have classes to help you discover your shape and your mission-calling.
Awaken & Activate.
Once we discover God's purpose for us, it is easier to know how He has designed us to GIVE ourselves away, which happens in two ways:
By serving the "least of these" or those living without hope or justice. Those opportunities to GIVE yourself away are listed by clicking the link above.
By serving the Body of Christ. Discover opportunties to use your S.H.A.P.E during the week or during our worship celebrations on Sundays.
GIVE by serving on our GATHERING teams
Day 1 (Sunday) is when we celebrate again the resurrection of Jesus and what God has done the previous six days--when the Body of Christ is active in the communities God has placed it--and eagerly anticipate the next six days.

You have been given a unique S.H.A.P.E. that make you the unique person you are. Find a place where you can use your uniqueness in ministry to the Body of Christ. Click here for a list of opportunties so serve on Sundays.

GIVE by serving with one of our GO Communities
You were not meant to serve alone. In fact, the form of discipleship modeled was on mission together. We have several communities on mission that would love to have you join them. Click the link above for more information about our communities.
GIVE Financially & Online Giving
Giving is an act of worship, an act of faith.
A Tithe is the regular amount given as an act of worship. Scripture suggests this amount is 10% of your income.
An Offering is a special gift above and beyond the Tithe.
Giving, regardless of the type, should never be done out of guilt or the expectation that God will "do you a favor" if you do.
Online Giving - Understanding that out culture is an electronic one, we offer this opportunity for you to participate in giving electronically. We do so with this caveat: we want to warn against the use of credit cards in any situation, and giving is no exception. It is unwise to go into debt for any reason.
We offer a course on finances to explain these principals and to help you get out and stay out of debt. Click
HERE
for more information.
Please note that the Beacon gets charged between 3-5% for several services, so while we appreciate any effort to participate in worship through giving, the Beacon receives the full amount of your gift only when you give in person or through the mail or by using the Zelle option from your bank.