Music Industry Dango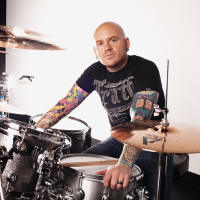 Dango is a missionary to musicians and the music industry.
After college, Dango moved to Seattle to join Amber Pacific, newly signed to Hopeless Records. He played on their debut album, The Possibility and the Promise, which has sold 75,000+ copies to date. He has played in all three of their music videos, which have gotten play on MTV, Fuse TV, MTV2, European MTV, and Much Music, Canada. Dango also played on their follow up LP, Truth in Sincerity, which has sold 60,000+ copies, and charted #62 on Billboard. Amber Pacific has played the Vans Warped Tour four times. Amber Pacific also had a song on the soundtrack and movie, TMNT, as well as multiple songs on MTV shows. He also teaches private lessons when he is not on tour as well as being a clinician. Dango plays in a worship band in Seattle called Floodgate Alive who recorded a live album and DVD recently. As well as drumming in two bands, Dango can be heard around the country, sharing his faith, in churches, youth groups, and conferences. Dango seeks to share Jesus Christ with anyone he can, be it through music, or anything else.
[
back
]